Ian Church died after alleged attack outside Great Yarmouth pub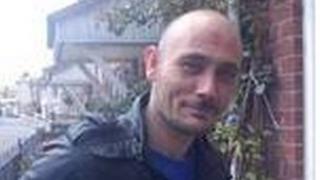 A man died after he was set upon outside a Norfolk pub by four men and a woman, a court has heard.
Ian Church, 40, had been drinking with a group of friends when he was set upon outside the Bricklayers Arms in Great Yarmouth in the early hours of 5 May, Norwich Crown Court heard.
He suffered head injuries and died in hospital on 7 May.
The five are in their 20s and 30s and include two brothers and their sister. They all deny murder.
'No good reason'
The court heard brothers Tony Smith, 29, of Sidney Close, Great Yarmouth, and Roy Smith, of Ranelagh Road in Sheerness in Kent, and their sister Kelly Taylor, 33, of Harris Road, also in Sheerness, were out for the evening in Great Yarmouth.
With them were their friends Todd Esherwood, 24, of Saxon Road, and 30-year-old Stuart Layden, of South Quay, both in Great Yarmouth.
Patricia Lynch QC, prosecuting, said Mr Esherwood was accused by one of the pub's customers, Peter Blake, of hitting him "for no good reason".
Mr Blake later returned to the pub with a cosh and was with his friend, Mr Church, who had a machete down the back of his trousers, the court heard.
'He's not breathing'
A witness described seeing two men smash the pub's windows and a group running out of the pub and after Mr Blake, Ms Lynch said.
Ms Taylor was seen hitting Mr Blake with a trophy and another man hitting him with a barstool, the court heard.
The court heard several witnesses say they saw Mr Church being punched in the head and was punched and kicked when he was on the ground.
One of the accused was heard to say "he's not breathing", the court was told.
The trial continues.