Coltishall pub landlord reels in 'monster' blue marlin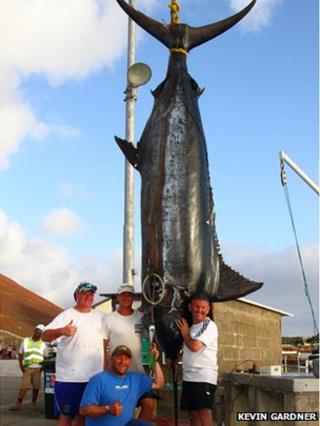 A pub landlord from Norfolk is celebrating after claiming he landed a "monster" 1320lb (599kg) blue marlin fish with just a rod and a line.
Kevin Gardner is thought to have become one of the first British fisherman to land a giant marlin on a line, with the fish stretching 20ft (6m) in length.
He said the catch off Ascension Island, in the Atlantic, took three hours.
The Marine Conservation Society said it would have preferred it if the fish had been released alive, not then killed.
Mr Gardner, who runs the King's Head in Coltishall, said he spent eight days scouring the water last month with his friends to hunt for the marlin, but could not believe his luck when he eventually got a bite.
"We saw it come out of nowhere from the left of the boat," he said. "Within seconds of me putting the rod on to my harness it had taken 700 metres of line."
"We saw it jump and it was massive. We knew it was a monster".
'No turning back'
Mr Gardner said it took three hours to pull the fish on to the boat in 30-degree heat.
He said it left him "completely spent", with blisters on his hands, skin burned off his side and severe backache and sunburn.
"I've done half-marathons before and I thought I was tired, but I've never been so tired in all my life," he said.
"Two hours in, I wished I'd never hooked it, but my mate Phil said to me 'You've got to do it now mate, there's no turning back'."
Mr Gardner said afterwards he filleted the fish and gave it away to people on the island, but brought back its giant bill as a souvenir.
He said on his next trip he planned to catch a great white shark.
According to the International Game Fish Association's (IGFA) website, the largest ever Atlantic blue marlin caught weighed 1402lb 2oz (636kg), which was landed off the coast of Brazil in 1992.
Sam Stone, from the Marine Conservation Society, said: "Whilst it's a fantastic catch, it would be even better if it was caught and released.
"Blue marlin have been commercially overfished for many years in the Atlantic and they continue to be unsustainably taken by longliners targeting tuna and swordfish."
All giant marlins are females and are known for being powerful, aggressive fighters, IGFA said.