Norfolk County Hall: New security measures after trespass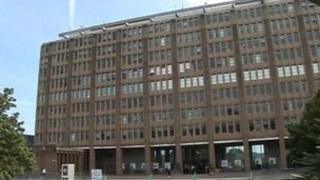 New security measures have been introduced at Norfolk County Hall after an intruder's film of the council headquarters appeared on the internet.
A man filmed himself wandering around with his dog, smoking and looking through documents in the legal department of the Norwich office.
Footage was posted on YouTube earlier this year.
The county council said it would add security doors and make lone workers have regular contact with guards.
Groups of 20 or more which use the building at night or at weekends will be charged for the use of a security officer.
'Files locked away'
Facilities manager Graham Wray said: "We've introduced a guard tracking system so we can make sure that guards are following the correct procedures.
"We are adding additional security doors to the building and we're also making arrangements to improve the security in the lifts at County Hall.
"We've also encouraged all staff to wear badges when at County Hall.
"We're also making sure that all files are locked away securely during these times."
Four videos, which run for nearly an hour in total, were published on YouTube in January.
They showed a man walking around Norfolk County Hall, in Martineau Lane, while it was closed.
A Norwich man in his 20s was charged with racially aggravated harassment after the incident, but the case was dropped by the Crown Prosecution Service in February.