East of England Ambulance's fleet 'stuck at Norfolk hospital'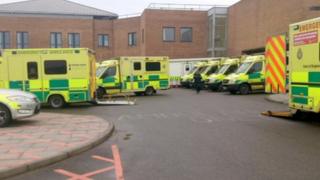 The ambulance service in Norfolk was unable to respond to life-threatening calls because its entire fleet was stuck at a hospital, it has emerged.
All 17 county ambulances waited more than two hours to transfer patients at the Norfolk and Norwich University Hospital, on Wednesday night.
None were available for 12 calls, including "blue lights" cases, the ambulance service confirmed.
The hospital said it experienced "unprecedented demand".
It also admitted it was not meeting A&E response time targets and could be fined £3.5m under a new penalty scheme being brought in next month.
The East of England Ambulance Service (EEAS), which has come under fire in recent weeks over its response times, said the problems did not ease until 04:00 GMT on Thursday.
Six-hour wait
Queuing had begun at both the Norfolk and Norwich and the Queen Elizabeth Hospital in King's Lynn, some 45 miles away, at about 16:00 GMT on Wednesday.
The 17 ambulances, which also serve parts of Suffolk, were effectively out of action from about 20:00 GMT, a spokeswoman said.
During that time, it received calls for "immediately life threatening" incidents requiring a "blue lights" response within eight minutes.
Details are unknown but cardiac arrest, major stroke and serious road crashes would all fall into this category.
She said the worst case was that of a patient who had to wait six hours to see an ambulance.
Their emergency had been categorised as serious, but not life threatening - but still requiring a 30-minute response, in normal circumstances.
"We had to pull in crews from other counties and use private services and, in the meantime, regularly reassure patients and carry out 'comfort calls' to make sure their condition hadn't worsened," the spokeswoman said.
"The lower priorities were affected most, as 'red' calls took precedence."
Call volume was high, but not overly so, with 462 compared to a daily average in February of 404, she added.
'Double the demand'
A hospital spokeswoman said: "We saw unprecedented demand for emergency care at A&E on Wednesday evening, and the hospital was on black alert.
"Under these circumstances it is very difficult to admit all patients in a timely way and our staff worked really hard to assist patients as quickly as possible.
"Early evenings during the week are generally busy and we can see up to eight ambulances arriving at the same time, but we experienced double this demand last night.
"We are jointly investigating the cause of this unprecedented surge in activity with the East of England Ambulance Service."
EEAS in Suffolk, Norfolk and Cambridgeshire has not met some targets for responding to 95% of calls within 19 minutes, a report revealed last week.
Measures are under way to remedy performance with the recruitment of more staff and extra vehicles.
The NNUH should see 85% of A&E patients within 15 minutes under national targets but is currently seeing 55% within that time.
The Norwich Clinical Commissioning Group will fine over missed targets from next month.
NNUH would be fined £3.5m at its current levels of delay.