MP Norman Lamb critical of delays in patient transfers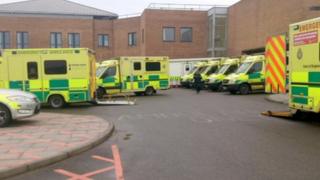 Health minister and North Norfolk MP Norman Lamb said lives were "put at risk" by delays in transferring patients from ambulances to hospital.
All 17 of the county's ambulances waited more than two hours to transfer patients to the Norfolk and Norwich University Hospital on Wednesday night.
The hospital said it had experienced "unprecedented demand".
Chief executive Anna Dugdale said they were working "very hard" to ensure it did not happen again.
The East of England Ambulance Service (EEAS), which has come under fire in recent weeks over its response times, said the problems that had begun on Wednesday afternoon did not ease until 04:00 GMT on Thursday.
EEAS confirmed that none of the ambulances had been available for 12 calls, including "blue lights" cases.
'Unacceptable delays'
The trust said they had used private services and crews from other counties and regularly reassured patients.
The worst case was that of a patient who had to wait six hours for an ambulance.
Mr Lamb said he had been pushing for better procedures for transferring patients from ambulances to the Norfolk and Norwich Hospital (NNUH) for some time.
"I've been arguing this case about the problem of handovers at the hospital being one of the elements which is causing these totally unacceptable delays in response times for the ambulances," he said.
"It [the hospital] is under a lot of pressure, but I don't think it's beyond the wit of man to get two organisations to work together to resolve this problem."
The chief executive of the Norfolk and Norwich Hospital, Anna Dugdale, said they were working "very hard" with the EEAS to ensure Wednesday night's "exceptional" events did not happen again.
"I would be surprised if any hospital in the land could cope with 15 ambulances arriving at the same time, with eight on the way," she said.
Some of the vehicles had been private ambulances they had not known were going to arrive.
A hospital spokeswoman said: "We saw unprecedented demand for emergency care at A&E on Wednesday evening, and the hospital was on black alert."
In a 2012 a Care Quality Commission report into the EEAS said that compared with other ambulance services, the trust had one of the highest amount of hours lost due to delays at hospital in England.