Michael Souter, ex-BBC Radio Norfolk man, denies child sex crimes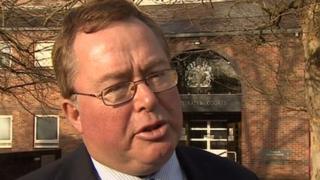 A former BBC radio presenter has appeared in court to plead not guilty to sexual offences against children.
Michael Souter, 59, of Loddon, Norfolk, is charged with sexual offences against boys, as well as a charge each against a man and a woman.
The charges, including serious sexual offences and indecent assault, relate to six boys, among them under-14s.
The former BBC Radio Norfolk presenter denied all the charges at Norwich Crown Court.
He will return to the court for trial on 3 June.
The charges relate to alleged offences between 1979 and 1999.
They relate to two boys aged under 14, four under 16, and a male and a female, both over 16.
Mr Souter worked for BBC Radio Norfolk from its launch in 1980 until the 1990s.