Lifeboat launch area washed away by tides and storms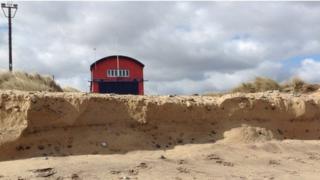 Storm waves and high winds have washed away thousands of tonnes of beach sand in front of the launching area for a Norfolk lifeboat.
The crew at Caister said it would take them about 10 minutes longer to get to sea in an emergency because of a 5ft (1.75m) step down to the beach.
Sand has been stripped from groynes blocking direct routes to the sea.
A shallow bank has also formed making it difficult to get the boat to deep water, coxswain Paul Williams said.
"I'm not overly concerned because we can get over the problems but it will take time when we launch," he said.
"A couple of us can shovel a channel for the lifeboat and the tractor can get down the step to haul it into the water.
"But thousands of tonnes of sand have disappeared from the beach over the past two days.
"A wind from the east often takes away the beach but when it comes off the land from the west it comes back."
Mr Williams said he had never seen it this bad and added it was affecting the station, which is built high up on the beach.
A tractor and trailer are normally used to launch the boat but the big step down makes this a difficult operation, Mr Williams said.
"When I was a boy it used to be like this but two weeks ago the groynes were totally covered," he said.
"Now after two days of heavy tides, winds and storms the iron work is all exposed.
"It may take years for it to return to what it was a few weeks ago."