Breydon Water: Broads Authority launches new patrol boat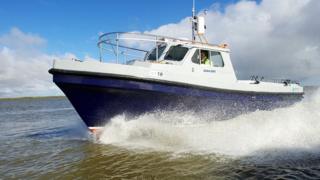 A £115,000 high-speed patrol boat has been launched by the Broads Authority to improve safety on the Norfolk Broads.
The Spirit of Breydon, designed for the open water and tidal conditions of Breydon Water near Great Yarmouth, can also be used 60 miles (97km) off shore.
The authority's standard river launches are not fast enough to respond to emergency calls from the coastguard.
The new boat is part of a £300,000 authority investment in Breydon Water.
Designed to operate in fog, heavy weather conditions and 5ft (1.5m) waves, the launch has a sprint speed of 20 knots (23mph) and includes a depth sounder and radar.
Adrian Vernon, head of ranger services, said: "Our current launch was designed for river use and cannot cope with the large waves sometimes encountered on Breydon Water.
"It will operate in all weathers, can arrive quicker at emergencies and is far more capable of taking in tow the increasingly larger hire vessels that use Breydon."
Powered by a low-emission engine it can accommodate two crew and six passengers.