Great Yarmouth Borough Council sells unwanted buildings for £1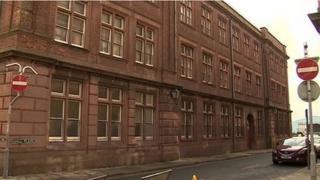 Two office blocks belonging to a Norfolk council have been sold to a housing association for £1.
Trafalgar House and the Old Fire Station are no longer needed by Great Yarmouth Borough Council after a round of redundancies.
The council said with security and business rates it would cost about £130,000 to mothball the buildings.
It decided to sell them to the Saffron Housing Trust, which is now planning to convert them into affordable homes.
Trevor Wainwright, leader of the Labour-run council, said the buildings had been on the market but there had been no offers made on them.
"Because we didn't have any interest and because of the cost, then obviously we went to the housing association to see if they were interested and they came back with a positive interest," he said.
A spokesman for the Saffron Housing Trust said there would be two one-bedroom houses as well as the 29 flats in the conversion, and they hoped to begin work in the summer.
"It's really good news for the local community," he said.