Norfolk Coroner William Armstrong: 'I hope I've made a difference'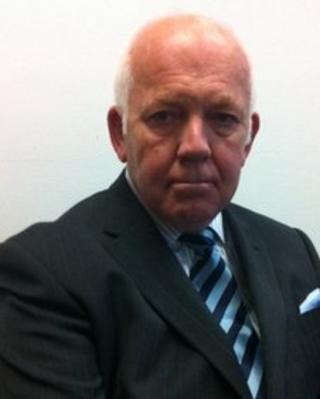 Being surrounded by death every day is not depressing, said Norfolk coroner William Armstrong, who has announced his retirement.
The former solicitor has instigated several changes during his 18 years in the role, which he describes as a "privilege" and "often uplifting".
He is leaving the position with "great sadness" but felt the time had come, at the age of 67, to move on and "be thankful for what I have been able to achieve".
"I've tried to expand the role of coroner from its traditional concept," said Mr Armstrong, who began as a deputy coroner within a solicitor's office in Tombland, Norwich, in 1986.
"We've tried to make the inquest process focussing on the needs of the family.
"I speak to them before the inquest starts, and we talk about the person who has died; their life as well their death."
'Absorb grief'
Over the years, Mr Armstrong has conducted inquests in the solicitors' office on Tombland, in the magistrates' court and from what was the coroner's office in a former pub.
Until quite recently, rooms were hired within the city's Assembly House, where the tinkle of tea cups and the restaurant's piano often created an unusual backdrop to the evidence.
It was not until 2011 that Mr Armstrong was given his own coroner's court, which he believes has made a huge difference to the way inquests are conducted.
He said he never pretends to understand people's grief, because "no-one can understand", but strives to conduct inquests with "care, sensitivity and compassion".
The coroner's service in Norfolk also has a volunteer support service and the only coroner's chaplain in England and Wales.
"What I have to remind myself all the time is that every situation is unique, every life is unique, every death is unique," he said.
"Also, people grieve in different ways, I've learned that.
"The best thing I can do is be there with people, to sit alongside people, to absorb their grief as far as I can and to listen to their stories."
Power to change
He said he copes with the constant reminder of death by reflecting on each case.
"People often ask me, 'is it depressing?', but it's not.
"One is all the time dealing with tragedy; I don't deal with normal death, if I can use that expression, it's usually sudden, traumatic death.
"Sometimes it can be uplifting even but it is, of course, very sad.
"As you get older it makes you very aware of your own mortality.
"We hang on to life by quite a thin thread, We can be here today and gone tomorrow.
"I'm very conscious of how sudden death can affect people and how someone can go to work in the morning and not go home in the evening."
Among the coroner's functions is the power to recommend changes which could help reduce further deaths.
"I've used that on a fairly regularly basis, and it can be very, very effective," he said.
"For example, quite often people receiving mental health care are not always given the appropriate treatment.
"There was a case some years ago of a young woman who died of anorexia.
"The report I made after that hearing led to major changes in the anorexia service in Norfolk.
"I hope I've been able to make a difference and bring about changes which have been useful and beneficial."