Norfolk Broads: Clay technology 'aids How Hill reserve'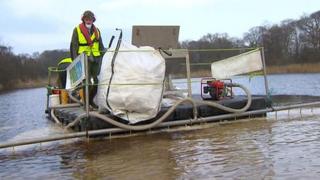 The use of new clay technology is being used on the Norfolk Broads for the first time to reduce algae growth and improve water quality.
Phoslock, a modified clay product, is being sprayed into Cromes Broad at How Hill reserve to lock away phosphates which cause algae to bloom.
Reducing algae levels will encourage the growth of more plant species and wildlife to inhabit the reserve.
The £50,000 project is "expensive but essential", said a Broads spokesperson.
Andrea Kelly, the Broads Authority's senior ecologist, said: "At the moment we have a very simple and degraded eco-system.
"We're trying to make it much more healthy and the cornerstone for this is reducing the nutrients in the water to allow other plants to get a foothold.
"With more plant life other species respond to this so the eco-system not only flourishes below the water, but encourages the wildlife above it too."
'Kick-start'
Funded by Natural England, the Broads Authority hopes stonewort, pondweed and lilies will return to the area, along with a more diverse selection of fish and birds including the booming bittern.
Developed in Australia, the modified clay has been used in more than 150 lakes in 20 countries.
"It's the first time this technique is being used in the Broads and we'll be monitoring it closely to see how affective it is," said Ms Kelly.
"At a chemical level you would see an instant effect in the clay locking up the phosphor, but in terms of a biological response I would expect to see less algaes come this summer and a greater diversity of plants within three years.
"The work this week is a kick-start in a long journey of recovery."