Norfolk ex-serviceman Ben Greer carries man's weight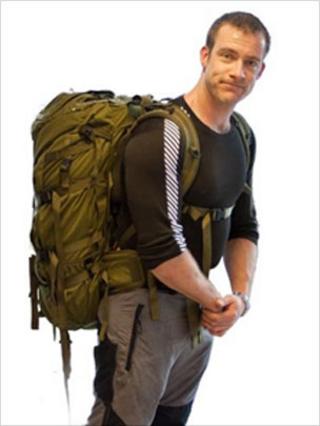 A former Chinook helicopter crewman who ferried servicemen injured on the battlefield is walking 440 miles with the weight of a man on his back.
Ben Greer is trekking 4.4miles in 100 towns and cities to represent the 440 British serviceman killed in Afghanistan since 2001.
He is carrying 15st 7lb (100kg) in a backpack to simulate the weight of an injured man in full combat kit.
The BigLift challenge aims to raise money for forces charities.
Mr Greer, from Docking in Norfolk, left the RAF two years ago after completing six tours of Afghanistan.
He said he wanted to "give something back" and raise awareness of the sacrifices made in Helmand.
"I'm walking a mile for every member of British Armed Services personnel killed in the current conflict," he said.
"The weight I'm carrying weighs more than me.
"If you want to help your mucker on the ground, maybe they've been hit, you've got to get on with it.
"That's what I'm trying to simulate. It's something very close to my heart."
'We haven't forgotten'
While he does not suffer from Post Traumatic Stress Disorder (PTSD), Afghanistan has not left Mr Greer.
He said he is constantly aware of the "price paid for what we have here".
"Having carried these guys in all sorts of states, I know the sacrifices they have made.
"The BigLift is a focal point to say 'we haven't forgotten what you've done'.
"It's not meant to be a morbid event, it's supposed to be raising spirits and giving those who have lost their loved ones a bit of love.
"I want people to take notice of what I'm doing, not for me, personally, but for the causes."
Mr Greer is encouraging people to join him while he walks, and to follow his progress on Twitter.
He will finish his challenge on 21 July at the Cenotaph, London.
Money raised will be split between RAF Benevolent Fund​; ABF The Soldiers' Charity; Royal Navy & Royal Marines charity​​​​; Help For Heroes​ and SSAFA Forces Help.