Sheringham 'angel pack' scheme celebrates first anniversary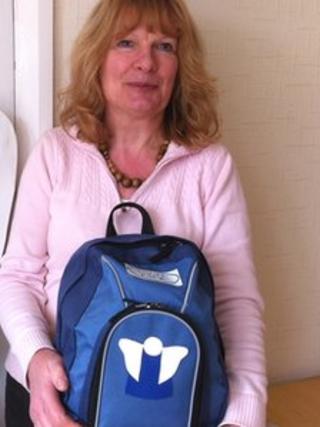 A scheme set up to comfort patients waiting for ambulances to arrive in a Norfolk town beset by delays is celebrating its first anniversary.
Rucksacks called "angel packs", filled with items including foil blankets, torches and sterile gloves, have been distributed across Sheringham.
Twelve patients have been helped, including a man of 86 who waited more than three hours for an ambulance.
East of England Ambulance Service has been ordered to improve response times.
The project was launched after the elderly man fell in the street in February last year and had to wait 46 minutes for aid.
When he fell again last December, breaking his hip, members of the public used a pack to help him while he waited three-and-a-quarter hours for an ambulance.
Organisers say that no-one is further than 60m (65yds) away from one of the 59 packs which are kept in every school, church and most pubs and shops in the town.
'So upset'
Co-ordinator Diane Evans, 61, who runs a bed and breakfast in Sheringham, started fundraising for the project in March 2012 after her sister, Debbie Nunn, helped the man when he fell in the High Street.
"My sister went in a charity shop to get an old coat to keep him warm but they had to wait 46 minutes for medical assistance," she said.
"She was so upset when she came home that she said we had to do something."
The name for the packs was chosen after the man called Miss Nunn his "angel".
'Good idea'
Mrs Evans belongs to local women's community group, Sisters in Spirit, which has been organising and distributing the packs around the town since May.
Each rucksack costs about £25 to put together, paid for through fundraising and a £700 grant from a local charity.
"They are not a first aid kit but purely a comfort pack to keep someone comfortable while they are waiting for a response," said Mrs Evans.
She said the scheme was not a criticism of the ambulance service, but that she wanted improvements and had been sending details of delays to Care minister Norman Lamb, the Liberal Democrat MP for North Norfolk.
On Wednesday the ambulance trust was ordered to improve by the Care Quality Commission after failing to meet its care and welfare target.
Emergency response times deteriorated during 2012 and the service regularly failed to meet targets in Norfolk and Suffolk.
An ambulance trust spokesman said the angel packs were a good idea.
"Our calls have to be prioritised so that we can get to the most life-threatening cases first as we are an emergency service," he said.
"We know that in some cases our response times have not been up to the high standards that we would like, but we are putting a number of measures in place to improve such as making extra ambulances available and recruiting 200 extra frontline staff."