Lowestoft College training future energy workers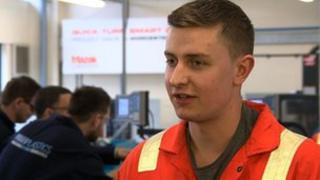 The first drilling rigs descended on the Southern North Sea in search of gas in the 1960s, many of them manned by cigar-puffing Texans.
Nowadays gas from platforms like the £400m Babbage, 55 miles off the coast, flows to shore thanks to home-grown engineers.
But what of the future? How long will this gas boom last?
"The Babbage field which has come into production in 2010 has an expected feed life of 20 years," said Felix Lerch, vice president of E.ON Exploration and Production.
"That gives you an indication of the duration of the gas industry in the southern gas basin."
But while there's still gas to discover, finding the next generation of offshore workers is proving a little harder.
On some platforms the average age is over 50.
Many blame the decline in apprenticeships in the 1980s which led, they say, to a "lost generation" of young engineers.
At Lowestoft College's school of engineering they are trying to fill that vacuum.
Last year they invested £600,000 in new tooling and equipment.
Currently they teach 200 apprentices and up to 300 engineering students aged 16 to 20 years.
The college has also developed a course specifically aimed at helping youngsters get a start in the industry.
"We've designed and run a course for four years now called the Energy Skills Foundation Project.
"It's sponsored by industry and the number of students that are getting jobs from that course is very high," explained Ferlin Quantrill, head of engineering.
Like many students, James Bane, 20, has family links to the offshore gas industry.
"Lots of my family work offshore, my dad does, my uncle does, my brother does. I've grown up with that around me," he said.
Rory Besford, who comes from Lowestoft and has a similar background, said: "Both my parents used to go offshore so that drew me into it.
"The money was a big factor but I enjoy the atmosphere, enjoy the people that work out there as well. It's everything about it really."
But the offshore boom also means competition for high paying jobs is fierce.
Welding student Keeley Beresford is in her second year at Lowestoft College.
Last year she was engineering student of the year, but she is struggled to find an apprenticeship.
"I've applied in Birmingham, all over really because I don't mind moving away," she explained.
"I'd move away to go to college somewhere else if I had to, as long as I'm in there. I want to go offshore because it's a great experience.
But of course the money too is attractive. She added: "It would be great, I'd be able to come home and shop."