Thetford Academy put in special measures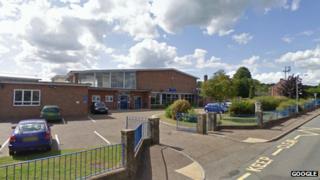 An academy in Norfolk where "students feel unsafe" has been put in special measures after being graded as inadequate by Ofsted.
Thetford Academy, which opened in 2010, was found to have low achievement among pupils and inadequate teaching.
A report by Ofsted also criticised pupil behaviour and said students expressed concerns about bullying, including some racist incidents.
Principal Cathy Spillane said she found the report "disappointing".
Thetford Academy was formed by the merger of Charles Burrell and Rosemary Musker high schools and later this year plans to increase its capacity to 2,050 pupils, from 1,400, with the opening of new buildings.
Ofsted visited in February and said the academy had "particularly low" standards in science, physical education and design and technology.
It also found "persistently low" attendance levels.
The sixth form's provision and leadership "does not enable students to achieve well" and the academy's leaders and managers "do not have the capacity to secure essential improvements", the report states.
'Casual attitudes'
"Behaviour is inadequate. Students feel unsafe and too many are excluded from the academy," Ofsted said.
"Many older pupils display casual attitudes towards learning.
"They are not working hard enough to prepare themselves fully for examinations later this year."
Ofsted noted that "most students join the academy with skills in reading, writing and mathematics that are well below the national averages".
It found its two strengths were rising standards in Key Stage 3 and in Key Stage 4 mathematics, and effective management of the construction work.
The academy has been told what it must do to improve teaching, pupil achievement and behaviour, and leadership.
An external review of governance should be undertaken to assess how leadership could be improved, Ofsted said.
Ofsted said the "accelerated opening" of the academy "did not begin well".
Problems included the resistance among parents for a single secondary school for Thetford, a change in sponsor and "a large number of staff" leaving at the end of its first academic year and during 2012.
Ms Spillane added: "We knew that taking two schools with two cultures and combining them into one academy was always going to have its own problems which would not be solved in the short term, particularly while still operating across two sites.
"The sponsors and leadership team are committed to this project and we are pulling together so we can ensure the school is removed from its current category as soon as possible."