Northampton Saints in university sponsorship deal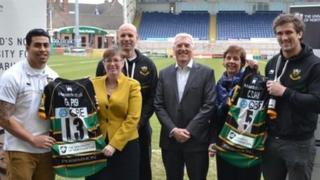 The University of Northampton has announced it is to sponsor Northampton Saints, days after signing a similar deal with the town's football club.
The deals mean the university's name will appear on both clubs' shirts for the next three seasons.
Students will be able to take part in work placements and internships at both clubs as part of the agreements.
A spokeswoman for the university said it was also negotiating a deal with Northamptonshire County Cricket Club.
The university, which has about 15,000 students and hopes to build a new £330m campus in the town's Enterprise Zone, will be one of several Saints' shirt sponsors.
Its logo will appear on the back of the rugby team's shirts, below the players' numbers.
Saints chief executive Allan Robson said: "Obviously this partnership agreement will have a positive impact on the club.
"But the benefits will work in both ways, not least because we are able to offer valuable work experience, internship and project opportunities for students across a wide range of departments that will enhance their career prospects once they graduate."
Delia Heneghan, director of advancement at the university, said: "We see this as a really important part of our community engagement here in Northampton."
'Not just money'
The tie-up with Saints came six days after the university was named as Northampton Town FC's club sponsor.
Neither the university nor the clubs have revealed the financial value of the deals, but Dominic Curran of sports sponsorship consultancy Synergy estimated they would each be "in the low hundreds of thousands" of pounds.
"This kind of deal is in its infancy in this country, but then running universities as commercial concerns is also in its infancy," he said.
"It's a competitive market out there. They're looking for an audience of people that are going to attend, which means people from 17 or 18 up to 25.
"One of the main things that audience is interested in is sport, so it makes a lot of sense.
"As with so many deals, it's not just about the money. It's about the other benefits you can bring to each other."
Signing a sponsorship deal with the county's cricket club would give the university all-year-round exposure, he added.