Norwich International Airport plans are submitted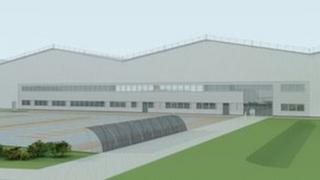 Norwich International Airport has submitted plans for a new hangar and company base which it said could create 1,000 new skilled jobs.
Announced last summer, Norwich AeroPark would be built on 100 acres at the airport.
The hangar would include the offices of aircraft painting firm Air Livery.
The airport is also seeking outline planning for the remainder of the site, which it hopes to use for "aviation-related development".
Norwich City Council and Broadland District Council are to consider the application, as the site straddles the district boundary.
A decision is expected this summer.
Airport chief executive Andrew Bell said: "A huge amount of work has gone into the design of the various elements of this application, ensuring we took the views of the public into account.
"This project is now gathering momentum and, coupled with the permission we have secured for a first class engine testing facility, brings us another step closer to our vision of an aviation centre of excellence for Norfolk".
Earlier this month, the city council granted permission for a separate engine testing facility at the airport.