Dad's Army: L/Cpl Jones' butcher's van restored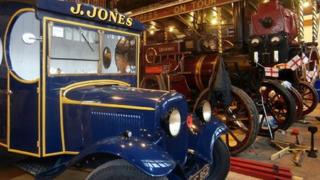 The butcher's van from the classic BBC comedy Dad's Army goes on public display for the first time after being fully restored.
The 1935 Ford box van, driven in the series by L/Cpl Jones, was bought by benefactors of the Dad's Army Museum in Thetford, Norfolk.
The museum has now raised £20,000 of the £63,100 needed to repay them.
Corinne Fulford, manager of the museum, said the van appeals to both fans of Dad's Army and vintage vehicles.
The restored box van resides at the Charles Burrell Steam Museum in Thetford, from which engines were used for the filming of two Dad's Army episodes.
"This is a really exciting weekend for the Charles Burrell and Dad's Army museums with Jones' van being on show," said Ms Fulford.
"She's been fully restored and on Saturday at one o'clock she'll be driving for the first time from the Burrell to Dad's Army museum."
Jones' 'armoured might'
Two Norfolk families, the Pearsons and the Jenkins, bought the van at a Bonham's auction in December.
Now the museum has to raise the money to pay them back.
"We've already raised about £20,000, but need to raise £63,100 to repay our generous benefactors," said Ms Fulford.
She added: "We also need to raise ongoing funds to ensure she is maintained."
Dad's Army ran for nine years from 1968 to 1977 and featured the exploits of a Home Guard platoon formed to protect the seaside village of Walmington-on-Sea from possible German attack during World War II.
Much of the popular BBC comedy was filmed in Thetford and the surrounding area.
The van, driven by actor Clive Dunn, made its first appearance in The Armoured Might of Lance-Corporal Jones - the first episode of the third series in 1969.