Kerb 'trip' police officer urged to drop compensation claim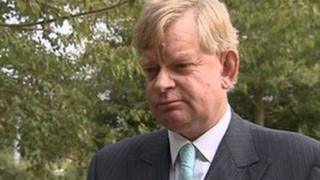 A police and crime commissioner has called on a police officer to withdraw her compensation claim against a petrol station after she tripped on a kerb.
PC Kelly Jones says she was injured at the petrol station at Thetford, Norfolk, and her solicitors have been pursuing a claim against its owners.
Norfolk PCC Stephen Bett urged her to do "the right thing" and withdraw it.
He said her reported action in bringing the claim left him "cold". PC Jones could not be contacted for comment.
Calls for her to drop the legal action follow claims by the Daily Mirror that her father had persuaded her to withdraw the case.
Law firm Pattinson and Brewer wrote to Steve Jones, owner of the Nuns' Bridges filling station, after PC Jones tripped while attending reports of a break-in at about 00:20 BST on 25 August.
'Leaves me cold'
The claim alleges the petrol station failed to ensure PC Jones was "reasonably safe", making no attempt to light the area or warn her about the step.
Mr Bett said he believed PC Jones, 33, should withdraw her legal action as soon as possible.
"Police officers, like other members of the emergency services, accept that when they join up they may have to put themselves in danger in order to do their job," he said.
"It is appalling to think that rather than putting the public first, there are some who see the possibilities of taking their own legal action to benefit financially."
'April Fool's joke'
Labour MP Keith Vaz, chairman of the Commons home affairs committee, said he was writing to Home Secretary Theresa May asking for "urgent clarification" over the issue.
He said he had initially thought the story was an April Fool's joke, and that PC Jones' claim could deter people from calling the police.
"It's absolutely essential we clarify the guidelines because this kind of case will put people off ringing the emergency services and indeed have implications for every single person who may ring up 999 and ask for assistance," he said.
"I'm writing to the home secretary to ask her whether there are any guidelines, and if there aren't any guidelines I think it's important that we have them."
PC Jones' claim is backed by the Police Federation but not Norfolk Constabulary.
'A contact sport'
Norfolk's chief constable Phil Gormley said he was "disappointed personally and professionally" by the claim.
"Policing is a contact sport, as is life on occasions. You can't eliminate all risk," he said.
Steve Williams, chair of the Police Federation of England and Wales, said: "It is important that the public understand that police officers are not financially compensated by their own force for injuries received on duty and in fact can lose money through half pay and reduction in allowances.
"She has been supported by my own organisation, the Police Federation, who have agreed to fund her on a conditional fee basis should the matter progress.
"In my view it is actually we that should be looking at our processes and structures in terms of how we provide advice - she is our member and I feel that our organisation has failed to prepare her for the wider personal impact that might arise from such a claim."
The Home Office said it did not comment on individual civil claims.