William and Kate: 'Royal house' plan viewers face vetting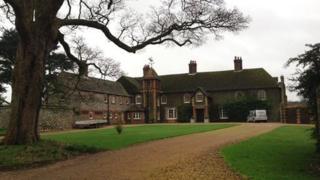 Anyone wishing to view plans to alter a mansion rumoured to be a future home of the Duke and Duchess of Cambridge will need to be vetted by police.
The plans for Anmer Hall on the Sandringham estate were approved by West Norfolk Borough Council in March.
They include re-routing a driveway and extending a garage block to form an equipment room.
Under government security guidance, anyone wishing to see the plans must make an appointment.
The planning application was made in January and followed speculation that the Queen would give the Grade II-listed house to Prince William and Catherine.
New garden room
It is thought that the Duke and Duchess of Cambridge could use the house as a country retreat.
The couple's main residence is expected to be an apartment in Kensington Palace.
Under the plans, the late Georgian country house will get a new garden room and accommodation converted from wood stores on the site.
The house has been part of the Royal Estate since 1898 and is a short drive from Sandringham House.
It was home to the Duke and Duchess of Kent between 1972 and 1990.
A spokesman for the council said the plans could only be viewed at its offices in the company of a planning officer.
The council must also inform the police and the "applicant's security adviser" of the name of anyone asking to see them.