Norwich hospital to draw up ambulance contingency plan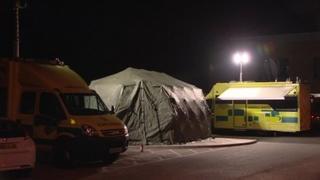 A contingency plan will be drawn up to deal with "significant spikes in demand" at the Norfolk and Norwich University Hospital.
Managers from the East of England Ambulance Service met with their counterparts at the hospital after ambulances queued for hours on Monday.
A major incident tent was set up to help cope with the demand.
Hospital Chief Executive Anna Dugdale said the two organisations would "knit together" plans to integrate better.
The ambulance service said that between 11:00 BST and 20:00 BST on Monday there had been between six and 15 vehicles queuing for up to three or more hours at the hospital's A&E department.
Ms Dugdale said it was an "extraordinary" day which put "huge pressure" on resources.
"The key thing going forward is we both have big internal plans to ensure we are able to cope with increased emergency demand," Ms Dugdale said.
"What we've agreed to do is knit together those plans closely so we're working together.
"We need to have a contingency plan to deal with very significant spikes in demand that frankly we had not anticipated."
Ms Dugdale said members of the public also had to play their part and ask themselves whether they really needed urgent treatment.
"We're trying to run emergency services for those people who really need accident or emergency care," she said.