Derrick Murphy reports Norfolk County Council over recorded call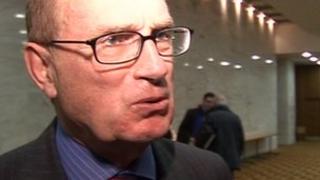 The former leader of Norfolk County Council has reported the authority to the Information Commissioner over a secretly-recorded telephone call.
Derrick Murphy stood down as leader ahead of a standards committee hearing in February that found he had brought his office into disrepute.
The hearing was told chief executive David White had secretly recorded a phone conversation with Mr Murphy.
A council spokesman said the authority was surprised to hear of the complaint.
The dispute between Mr Murphy, a Conservative, and the authority stems from accusations relating to an email sent to the BBC by a political assistant.
'Internal warfare'
The email was alleged to have disparaged Nick Daubney, Conservative leader of West Norfolk Council.
Mr Murphy was brought before the county council standards committee meeting which heard of "internal warfare" in the local Tory party.
He was cleared of various accusations but found to have brought the office of the leader into disrepute and was ordered to undergo ethics training.
Mr White had told the hearing he had secretly recorded a conversation with Mr Murphy on 27 April last year, having sought legal advice first.
Mr Murphy, councillor for Freebridge Lynn, said he had referred the council to the Information Commissioner's Office (ICO) over the recorded call, alleging "possible multiple breaches" of the Data Protection Act.
"I think the Information Commissioner should investigate this matter as I think it important for the residents of Norfolk to find out whether this practice is widespread within the council and what actions can be taken if possible breaches have occurred," he said.
'Not seeking re-election'
A spokesman for the ICO said: "I can confirm that we have received Mr Murphy's complaint and we will be making inquiries in due course."
A Norfolk County Council spokesman said: "We are surprised to hear this as Councillor Murphy has not made a complaint to the council itself.
"However, the standards committee referred to concluded that Councillor Murphy had brought the county council and the office of leader into disrepute by asking his assistant to lie on his behalf.
"He subsequently stood down from his cabinet post and is not seeking re-election at the forthcoming elections."
Mr White left the council on Friday after announcing his retirement.
Last year the council was fined £80,000 by the ICO for sending details about allegations against a parent and the welfare of their child to the wrong person.