Norfolk kerb trip PC Kelly Jones 'claimed against force'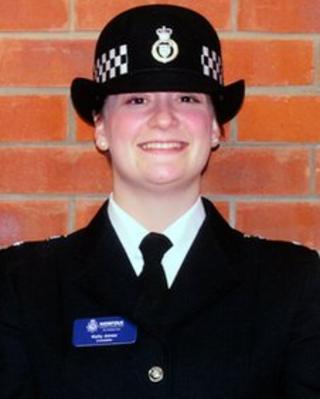 A police officer claiming compensation from a garage after she tripped on a kerb had previously sued her own force, it has emerged.
Kelly Jones, 33, is currently seeking payment from a petrol station in Thetford, Norfolk, after she tripped while investigating a break-in.
PC Jones' solicitor firm, Pattinson Brewer, confirmed she suffered a knee injury in a car crash last year.
The solicitor said Norfolk Police admitted liability for the collision.
It is unclear what settlement was agreed.
Last week it emerged PC Jones had filed a compensation claim against Nuns' Bridges garage owner Steve Jones for failing to ensure she was "reasonably safe" while attending a suspected break-in on 25 August last year.
Her solicitors said she tripped on a kerb and fell while walking towards a gap in the fencing in a poorly lit area, while trying to access the rear of the premises.
The firm said PC Jones injured her left leg and right wrist and had to go to hospital. She also took six weeks of sick leave from work.
Despite calls from Norfolk Police, the force's police and crime commissioner and MPs to withdraw the claim, her solicitors said it would continue to deal with the case while the full details of what happened were investigated.
PC Jones had filed another claim to Norfolk Police related to a crash while on duty in Garboldisham, South Norfolk, in the early hours of 30 January 2012.
'Compensation culture'
During the incident her police car, in which she was a passenger, was following a suspect reported to be travelling at high speed.
Her car then left the road and ended up on its side. Police said the vehicle was written off.
A Norfolk Police spokesman said it was clear PC Jones' claims had started a broader debate about the 'compensation culture' which exists in all walks of life.
He said: "The vast majority of officers are proud of what they do and would never consider making a compensation claim against a victim of crime.
"It is important to us that this issue does not detract from the overwhelming and on-going hard work and commitment to public protection by police officers both here in Norfolk and elsewhere across the country."
Pattinson Brewer said the issue had been dealt with by the force and it had no further comment to make.