Great Yarmouth inquiry into private port's independence plea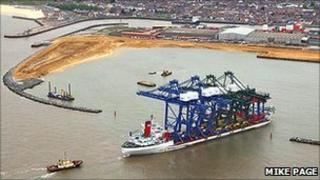 An inquiry is to decide if a Norfolk port should be allowed to have greater independence from its owners.
EastPort UK, a private firm, runs Great Yarmouth's outer harbour and wants to act commercially independently of Great Yarmouth Port Company.
Opponents to the plan say EastPort had not delivered on plans for ferry services and a container terminal.
EastPort said other new business had increased revenue from £6m to £9m and independence would boost development.
Until 2007, when the new outer harbour became operational, Great Yarmouth port was run by commissioners as a trust owned and managed in the public sector for the benefit of the town.
The privatised Great Yarmouth Port Company was set up and the outer harbour, now managed by EastPort UK, was built and leased to the firm for 99 years.
Groups, including The Port Users Association, the Great Yarmouth Heritage Group, Hopton Coastal Action and Hopton Parish Council, claim investment and promised new facilities have not materialised so extended powers should not be granted.
Criticisms dismissed
They are expected to offer evidence at the inquiry, being supervised by inspector Lloyd Rogers at Great Yarmouth town hall, which is expected to last until Friday.
EastPort's vice-chairman, Eliza O'Toole, claims three objections are irrelevant as they are from leisure craft users who do not use the harbour, two are from people who lost their seats when the Great Yarmouth Port Authority was disbanded and two are commercial.
She dismisses other criticisms as attempts to resurrect objections to the original privatisation of the port.
No objections had been received from the borough and county councils that gave money or land to the project, she said.
"The port has been modernised and has increased revenues significantly since 2007. Income has risen from just under £6m to over £9m in three years," she added.