'Raoul Moat' threat farmer from Norfolk sentenced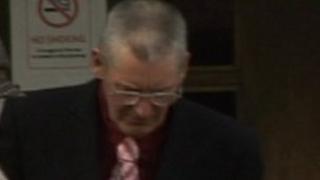 A farmer who compared himself to gun killer Raoul Moat during a dispute with a council has been sentenced to a community order.
Leonard Fulcher, 60, made the comments to a legal executive while "frustrated" about delays in his compensation claim against Fenland District Council.
Norwich magistrates heard he was seeking damages over the destruction of his barn at his Norfolk farm in 2006.
He was convicted of threats to kill and harassment following a trial in March.
Magistrate Sandy Chandler said the comments, which followed an ongoing dispute, were "reckless rather than intentional" but "undoubtedly" caused stress.
When arrested and asked if he had made "any reference to killing people", Fulcher had replied "No, I think I said 'I could murder a cup of tea'," the court heard.
'Shoot himself'
Fulcher's barn in Pott Row, a village near King's Lynn, was set on fire by council officers because it did not have planning consent, magistrates were told.
Six years later, Fulcher, of Cliffe-en-Howe Road, Pott Row, was concerned his civil case for damages was nearing the deadline for a claim, the court heard.
Amanda Nudds, of solicitors Hayes and Storr, said Fulcher was "angry and agitated" when he arrived at their offices in Fakenham on 10 July.
"He said if he couldn't get justice he would get it another way," she told the court.
"He was talking about his life was over, he knew where they [Fenland council officers] were and he would go and shoot them and shoot himself."
She said Fulcher "was talking about being like Raoul Moat" - the man who went on a shooting spree after being freed from prison in 2010 before turning the gun on himself.
'Seeing red'
On 14 August, Fulcher phoned her "agitated and upset" because he believed a barrister's letter valuing his claim at £25,000 "must have a typographical error".
He told her he was "seeing red", "was going to have his day" and repeated the threat that he knew where council officers lived.
He also said he would set the council's offices alight.
Gavin Cowe, mitigating, said Fulcher continued to protest his innocence and had not made contact with the council.
Fulcher, a married man, single-handedly runs the 54-acre farm which has up to 50 pigs, the court heard.
He was ordered to carry out 250 hours of unpaid work, pay £100 compensation to Ms Nudds and court costs of £620.
He was also made subject to a restraining order for five years and told not to contact Hayes and Storr solicitors, Ms Nudds and another solicitor involved in the case.