Herbie Hide house death: Murder charge dropped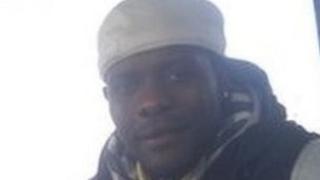 A man charged with murder over the death of a man at the Norfolk home of former world champion boxer Herbie Hide has had the case against him dropped.
Tafadzwa Khan, 25, died from stab wounds following a party in Bawburgh, near Norwich, on 18 March 2012.
The case against Joshua Burton, 20, of Gayton Walk, Norwich, was discontinued at Norwich Crown Court.
The Crown Prosecution Service (CPS) said new evidence had emerged that "undermined" the case.
The case was dismissed following an application by the CPS and Norfolk police.
'Wall of silence'
Following the dismissal of the case, Shereen Sinclair, the mother of Mr Khan, said: "People need to come forward if they have any information about what happened to my son.
"I know there is a wall of silence and people might be frightened, but my family and I need to know how Taffy was taken away from us.
"After the decision at court today, I do not want anyone to take the law into their own hands. I don't want another mother to be crying like I am. Please tell the police if you have any information that might help."
Frank Ferguson, senior district prosecutor for CPS East of England, said evidence not available at the time Mr Burton was charged had "undermined the prosecution case so that it could not go ahead".
"In these circumstances it would be wrong of us to continue with a prosecution and after discussions with Norfolk police and prosecuting counsel, we decided to discontinue the case against Joshua Burton," he said.
"I have met with the mother of Mr Khan to explain the reasons for this decision. I also offer my condolences to his family for their loss."
Reluctant witnesses
Det Supt John Brocklebank, head of the Norfolk and Suffolk Major Investigation Team, said police were in agreement about discontinuing the case.
"Whilst we are disappointed that the case is not being proceeded with, we will refocus our efforts into bringing to justice those responsible for Taffy's murder," he said,
"We know there are people who were at the party in Bawburgh and know what happened, but have not come forward.
"It was a busy party with guests from across the country, but only a small number of them have been able to assist the investigation so far."