King's Lynn Hospital: Investigation into patient delays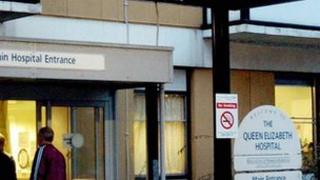 An investigation will ask whether staff shortages resulted in long delays at a Norfolk hospital.
Ambulances were left queuing outside the Queen Elizabeth Hospital in King's Lynn on Sunday. Off duty staff were called in and an extra ward was opened.
The hospital said it was already busy before a surge of patients arrived.
Dr Ian Mack, chairman of the West Norfolk Clinical Commissioning Group, said the investigation would see if staffing "contributed" to the delays.
Cold weather
Dr Mack, whose group is in charge of healthcare in West Norfolk, said: "There appear to have been a number of severely ill patients who had to be seen at the Queen Elizabeth Hospital, and that was certainly, we believe, a factor.
"But we're going to look at that in greater detail, to look at what patients had to be admitted and what was the care they needed to receive."
Dr Mack said the hospital was currently looking to fill "a large number of vacancies" for nurses.
Nursing director Gwyneth Wilson said the hospital had been increasingly busy in recent weeks.
As well as the cold weather, which can be dangerous for those with respiratory or cardiac problems, Ms Wilson said many of the patients already in hospital were very ill.
A lack of community beds had also placed pressure on the hospital, she said.