Norfolk coast erosion: MP wants to secure protection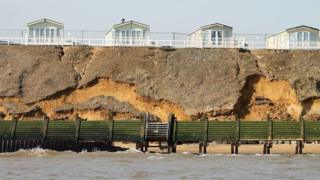 An MP has pledged to do everything possible to protect the Norfolk coastline after winter winds and high tides have caused substantial erosion.
Sand has disappeared from beaches in many areas including Hembsby and Hopton, with part of the shingle ridge at Blakeney falling into the sea.
Brandon Lewis, Conservative MP for Great Yarmouth, said it was necessary to get coastal protection in place.
He said he would do all he could to support the local community.
Steel fencing
"I, as a member of Parliament, have got a job to do," he said.
"What we can do is to make sure the area is protected.
"One of the problems is we've got an economy here that relies on tourism... and that's important to protect for the whole community."
In Hopton, the Holliday Village is in danger of losing caravan pitches and a nearby beach because of erosion.
Steel fencing has gone up along the beach in order to protect the pitches and for safety reasons.
Rocks are being brought in to shore up the sea defences.
'Fishtail groynes'
"It's the ugliest thing you can see in the world," said Jonathan Stafford, manager of the Holiday Village.
"It's a short-term solution. It will prevent the coast from eroding further.
"We're looking to put in some fishtail groynes out there in order to restore the beach to its former glory."
Steve Hayman from the Environment Agency said the winds over the winter had exacerbated coastal erosion.
"I would caution against automatically thinking in terms of things like concrete sea walls, because they might protect the base of the cliff but they don't do anything at all to address the underlying problem of the erosion.
"It's much better to work with the natural processes than to resist the force of the sea."