Joanne Foreman death: Family speak of fight for justice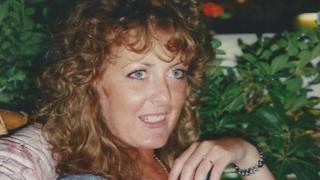 Just over two years ago, Joanne Foreman had reached a turning point in her life.
"She was on top of the world", her stepfather Andrew Brown said, "she had a new job as a floor manager at H&M in Norwich, which she loved."
But on the morning of Saturday, 12 March, 2011, Joanne was found dead at home. She was just 41.
Police were called to her house in Horsford, near Norwich, by her partner, with officers initially treating her death as non-suspicious, then later as "unexplained".
Six months on, an inquest failed to find out how she died.
To this day, Joanne's death remains a mystery and Mr Brown and her mother, Sue, are still searching for answers.
They are frustrated and angry with how the case was handled and say they are convinced it was not properly investigated.
'Injected with insulin'
Just hours before her death, Joanne had spoken to her mother and her aunt and was positive about her future, Mrs Brown said.
"She called me on the Friday. It was like having the old Joanne back.
"How could she be dead the next day?"
The inquest heard Joanne had recently given up drinking but had been at a pub in her village on the Friday and returned to the pub that night with an insulin pen.
She was not diabetic but claimed she had injected herself - which, if true, could have had catastrophic consequences.
Suspicions that Joanne may have died as a result of alcohol or insulin in her system were not borne out by evidence heard at the inquest.
So how did Joanne come to die?
Surrounded by paperwork at the couple's home, Mr Brown thinks he may never find out but is determined to question every step of the investigation process.
Police have since apologised to the family for "missed opportunities" in the case and said it had been thoroughly reinvestigated, but Mr Brown said this does not go far enough.
'So many issues'
He pushed for Norfolk Police's professional standards department to investigate the initial inquiry, which resulted in a second investigation into Joanne's death.
The case was also reviewed by the Norfolk and Suffolk Major Investigation Team.
"Sometimes I think, 'can I mentally carry on with this, what will it to do the family, what have I got to gain by doing this?'," he said.
"But I think we have a right to know what happened to Joanne and a right for her death to be thoroughly investigated.
"There are so many issues here."
Mr Brown has recently been told he can ask the High Court for a fresh inquest, and is now preparing his application without legal representation.
"This is my last resort - I've been driven to this because I can't get any answers any other way.
"I'm not doing this out of some misguided loyalty to Joanne or altruistic reasons - we have a right to know.
"I think there has been an injustice.
"How can a perfectly healthy 41-year-old woman just die?"
'Objective and detailed'
Mrs Brown added: "Joanne was the type of person to help anyone.
"She would be horrified by this.
"The thought that perhaps not enough was done to help her is what I can't deal with."
Norfolk Police have said there were "a number of missed opportunities" in the original investigation "which may or may not have helped to provide further clarity as to the cause of death".
It said there had been an "objective and detailed" re-investigation but the death was still being treated as unexplained.