Home secretary orders probe over police compensation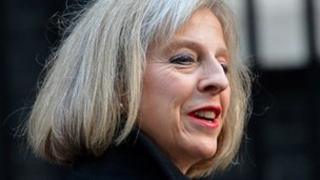 Home Secretary Theresa May has said she wants to know if the case of a Norfolk police officer suing a garage owner was "symptomatic" of a claims culture among officers.
Mrs May told the Home Affairs Select Committee it was important to find out more before reviewing any guidelines.
Kelly Jones, 33, is currently seeking payment from a petrol station in Thetford, Norfolk.
She claims she tripped while investigating a break-in in August.
Mrs May told MPs that while not wanting to comment on the case she has asked her staff to find out if it was a one-off incident or "symptomatic of a culture".
"We don't want members of the public to feel that they can't ring 999 because they're worried a police officer might sue them as a result of something that happens when the police officer is there to look into the incident which has taken place," she said.
'Kerb trip'
"I've initiated some work within the Home Office to look at the extent of this issue."
Mrs May, responding to a question from Northampton North MP Michael Ellis, would not comment in detail on the Norfolk case.
She said: "There has been a case recently which has highlighted this and the question I am asking is: is that case symptomatic of a culture or is it simply a one off case and doesn't reflect what's actually happening?"
PC Jones filed a compensation claim against Nuns' Bridges garage owner Steve Jones for failing to ensure she was "reasonably safe" while attending a suspected break-in on 25 August.
Her solicitors said she tripped on a kerb and fell while walking towards a gap in the fencing in a poorly lit area, while trying to access the rear of the premises.
The firm said PC Jones injured her left leg and right wrist and had to go to hospital. She also took six weeks of sick leave from work.
Despite calls from Norfolk Police, the force's police and crime commissioner and MPs to withdraw the claim, her solicitors said it would continue to deal with the case while the full details of what happened were investigated.
PC Jones had previously filed another claim to Norfolk Police relating to a crash while on duty in Garboldisham, South Norfolk, in the early hours of 30 January 2012.