Norwich hospital gets £2.5m to address ambulance delays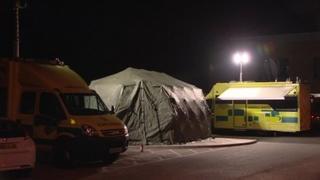 About £2.5m is to be spent on reducing delays in offloading ambulance patients at the Norfolk and Norwich University Hospital (NNUN).
On Easter Monday, ambulances queued for more than three hours to hand over patients and a major incident tent was set up to cope with demand.
The money will pay for 20 new emergency department nurses and doctors.
Krishna Sethia, medical director of the NNUH said the hospital was "delighted" at the additional funding.
"Our commitment is that this money will be spent on frontline clinical staff."
There will also be resources for the ambulance service to develop how it tracks vehicles so the hospital knows when they are arriving.
The £2.5m has been provided by the Clinical Commissioning Groups (CCG) for Norwich, North Norfolk and South Norfolk.
The chairman of the North Norfolk CCG, Dr Anoop Dhesi, said delays for ambulances in rural Norfolk had been one of the biggest areas of concern for local GPs.
"From our recent consultation, ambulance response times are a major worry to the general public and patients as well," he said.
Jonathan Fagge, chief executive of the Norwich Clinical Commissioning Group, said the money would make a significant difference but it was only a short-term solution.
"The long-term solution isn't more and more money thrown at the problem, but to make the system work more efficiently," he said.