Winter weather causes gritting budget overspend by £1.2m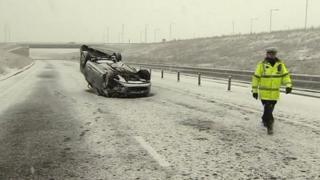 Norfolk County Council has overspent its gritting budget by more than £1m because of the bad winter weather.
The council carried out its first gritting run on 27 October, with the last on 4 April.
The annual anticipated budget for gritting was £3.8m, but the council says it has spent about £5m.
More than 41,000 tonnes of salt was used, with gritters going out 159 times. The council carries out 97 gritting runs in an average winter.
Nick Tupper, highways maintenance manager at the council said: "The weather was at times so severe that we also had to call in additional resources and the support of farmers.
"We have also seen some town and parish councils gritting footways in their areas."