Norfolk PCC Stephen Bett sorry for speed limit comments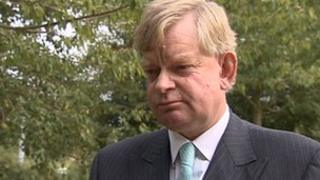 A police and crime commissioner has apologised for suggesting drivers should be allowed to go "flat out" on some roads.
Stephen Bett, PCC for Norfolk, had suggested abolishing speed limits on some major roads, allowing drivers to go as fast as conditions allowed.
But he has now issued an apology, saying his remarks were "flippant".
Describing his suggestion as tongue-in-cheek, Mr Bett said: "My comments were not meant to be offensive."
Mr Bett had said many speed limit signs should be removed because drivers could become "mesmerised" by them.
He told BBC Radio Norfolk: "We ought to drive to road conditions rather than set limits.
"The problem nowadays is there's so many damn signs."
In his apology, Mr Bett said: "With hindsight, my message around the clutter of associated signage has been lost in my flippant comments about speeding.
"I fully acknowledge that speed is regarded as a contributory factor in determining the outcome of collisions."
Mr Bett said having lost a "close personal friend" in a crash he understood the "misery and heartbreak" associated with road accidents.