East of England Ambulance wait of four hours before woman died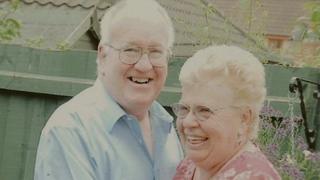 A grandmother died after waiting nearly four hours for an ambulance following a series of errors, an inquest has heard.
An ambulance was called for Isabel Carter, 74, after she was taken ill at her home in Wymondham, Norfolk.
It should have arrived within two hours, but it was delayed by a succession of mistakes at East of England Ambulance NHS Trust.
The trust said it had apologised to Mrs Carter's family and has since made improvements to its service.
On Monday, the trust revealed plans to recruit more than 350 employees after the Care Quality Commission ordered it to improve care and welfare standards.
Mrs Carter woke up with stomach pains at 05:30 GMT on 2 December 2011, the inquest in Norwich heard.
Her GP Yvonne Watts attended at lunchtime and at 13:15 GMT asked her surgery to request an ambulance to attend urgently.
The ambulance should have arrived by 15:15, but did not turn up.
Internal investigation
Mrs Carter's husband David and the surgery made further calls requesting the ambulance, but it did not finally arrive until 17:00.
She went into cardiac arrest and paramedics resuscitated her, before taking her to the Norfolk and Norwich University Hospital.
By the time she arrived there at 18:27, her pulse was barely registering. Despite further treatment, she died within minutes.
Deputy assistant coroner David Osborne said Mrs Carter died after suffering a large bowel ischaemia.
Following her death, ambulance trust manager Adrian Maasz was appointed to head an internal investigation.
He said that demand for ambulances that day was 30% higher than usual, meaning the trust had not been able to hit its two-hour target.
The call was not later upgraded from "urgent" to "emergency" as it should have been.
"The procedures in our control room were not followed," he said.
Dr Watts told the hearing she was unable to say whether Mrs Carter may have survived if the ambulance had reached her within two hours.
Victor Inyang, an accident and emergency consultant at the hospital, said if untreated, Mrs Carter's condition had a 90% mortality rate.
If promptly treated, that figure dropped to between 50 and 80%, he said.
'Let us down'
Recording a narrative verdict, the coroner said he hoped Mrs Carter's family drew some comfort from knowing that her death had prompted improvements at the trust.
Speaking after the hearing, Mrs Carter's son-in-law Barry Holland said: "The ambulance service, as described in court, let us down on the day. It let Isabel down on the day she needed it most."
Mr Carter said: "I don't know whether it's a question of blame. Mistakes were made and if things had been right she would have had the chance that she didn't get."
In a statement, the trust said it had increased staffing levels, invested in additional clinical co-ordinators and improved training and education.
John Martin, interim director of clinical quality at the trust, said: "It took too long to get an ambulance to the patient, but as a result of this we have taken steps which the coroner recognised we had implemented."