Diamond Jubilee Jigsaw: Sandringham House hosts collapsed puzzle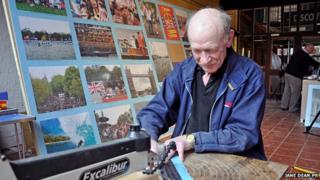 A 40,000 piece jigsaw record-attempt that collapsed after the final piece was put in place is to be transported to the Queen's Sandringham Estate, Norfolk, in 132 "large" puzzle pieces.
Dave Evans, from Weymouth, spent 35 days hand-cutting the 20ft by 8ft (6m by 2.5m) jigsaw, featuring 33 images of the Queen's Diamond Jubilee.
It will be displayed until 3 November and then auctioned for Help for Heroes.
Video of the collapse has been viewed more than 110,000 times on YouTube.
It is being moved on Tuesday and will be on show to the public shortly afterwards.
Mr Evans said: "The world record for an auction jigsaw is about £15,000 and I hope it will do better than that.
"I hope the picture itself will have international significance and these guys will benefit from it."
The artisan puzzle-maker, who has been hand-cutting jigsaws since 1952, said the air turned blue when the puzzle collapsed to the floor of his Brewers Quay workshop in April.
"I don't normally swear, but on this occasion an expletive came out," said Mr Evans.
"As it's turned out, it's probably the best thing that could have happened - everybody loves the fact it fell down."
Mr Evans and four helpers took more than 16 days to rebuild the 40,763 piece jigsaw.
He now hopes it will gain him a Guinness World Record for the largest hand-cut, wooden jigsaw puzzle.
"A lot of people have commented to say I should have used glue, but it wouldn't be a jigsaw anymore if it was glued together."
Mr Evans said the auction could see the puzzle bought by a museum, hotel or cruise liner.
"It's got to go somewhere that has the space to display it.
"Maybe somebody will buy it with the aim of breaking it up and putting it back together… if they're mad."