King's Lynn incinerator: Costs of pulling out revealed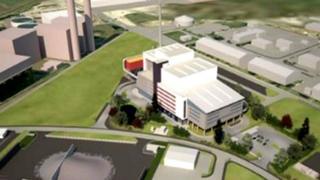 Abandoning plans for an incinerator near King's Lynn could see termination fees of up to £90m, a Norfolk County Council report has warned.
If planning permission is refused contractors Cory Wheelabrator could be awarded up to £20.3m in compensation.
The cost of "withdrawing" the contract would be "significantly higher", said a county council spokesman.
The report will be discussed at the council's cabinet scrutiny committee on 4 June.
Details of the contractual penalties that would arise in the event of the council withdrawing from the incinerator at Saddlebow was requested at the first meeting of the new council following the elections on 2 May.
'Financial black hole'
George Nobbs, who was appointed leader of the council on Friday, said: "This is the sort of information we've been asking for for a long time… and I'm glad that at last it's being set out in a clear way."
He added there is "a determination to lay all this to rest, to lay everybody's objections and suspicions... and more importantly to be able to satisfy the people of Norfolk that all the information is out there.
"The problem is the contract is signed. We're bound by it, although we didn't sign it and wouldn't have signed it in those circumstances, but that's where we are."
Termination of the contract, because of planning failure, would trigger a compensation clause payment to Cory Wheelabrator costing up to £20.3m.
Following a public inquiry that ended in May, a decision from the Secretary of State on whether or not to grant planning permission is expected by autumn or winter 2013-14.
The report does not attempt to provide a figure if the council withdraws from the contract in other circumstances, but suggests the £80m-£90m cost produced for Cornwall Council when considering abandoning a similar contract is a "useful indication".
In addition, withdrawal from the contract would lead to the loss of a waste infrastructure grant worth £169m over the lifetime of the contract.
Mike Knights, vice-chairman of incinerator opposition group King's Lynn Without Incineration, said: "We appear to have a situation where officers working for Norfolk County Council appear to have dug us into a huge financial black hole and they are expecting us to take their word for it that there's not really a pain-free way out of it.
"With such large sums of money of money at stake it's imperative we have external, independent, people looking at this contract and seeing if it's as bad as they say it is, or if there are ways of actually getting off this hook without incurring this expenditure.
"We can't expect county councillors make an informed decision on this without know what the facts are and you can't have officers denying this essential information to our elected representatives. They have to know what they are deciding."