UKIP Norfolk shoplifting councillor 'may resign'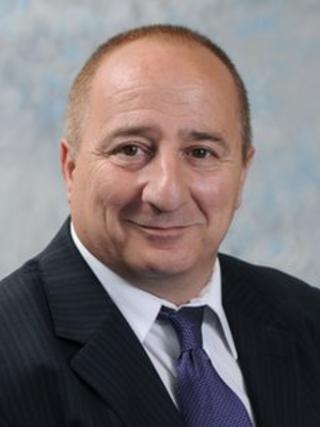 A UKIP councillor is considering his future at Norfolk County Council after it emerged he was questioned about a shoplifting incident last year.
Peter Georgiou admitted he carried out the offence last May, but said: "I was in a very dark place at the time... and was on anti-depressants."
Mr Georgiou later paid for the items and no further action was taken.
However, after his recent election the incident was publicised and he said he would reconsider his position.
Mr Georgiou was elected to represent Thetford West, gaining 814 votes for UKIP earlier this month.
'Apologetic and embarrassed'
After recent publicity about the shoplifting offence, the county council said it had received three enquiries questioning his "eligibility as a councillor".
In a statement, a spokesman added: "We are not aware of anything that would preclude Councillor Georgiou from maintaining his position as a county councillor."
Mr Georgiou said the offence happened when his wider family was "going through a very serious and stressful" incident.
"Yes, I went into a store and I took some shopping without paying for it, but for the record I was never arrested and it never went to court," he said.
He said officers visited his house two days after the incident and questioned him about items he had shopped for at a store in Thetford.
"They asked if I paid and I said yes, I believed I did, but when I checked my money I had more than I should have.
"I realised I hadn't paid for them," Mr Georgiou said.
"I was very apologetic and embarrassed."
The officers told him no further action would be taken if he paid, which he did.
"They did say as well that they would prefer me not to go back to the store," Mr Georgiou added.
'Serious thought'
He said he hoped people who voted for him would forgive him for "something I did when I was in a seriously dark area in my life".
Mr Georgiou said he had been extremely distressed at the embarrassment the incident had caused his wife, who he said had been very supportive.
"I am considering resigning because I don't know how the council feels about this," he said.
"The cost of all this could outweigh the good I could do for people."
Although Mr Georgiou said fellow UKIP members had also supported him, he said he would give "serious thought" to his future before making a decision.