Thieves steal a herd of young pigs from Kings Lynn area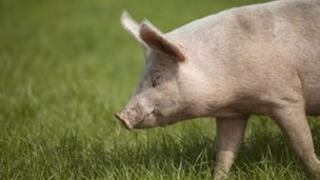 Thieves have stolen a herd of more than 100 pigs from a farm in Norfolk.
The animals were taken from a field in Gayton, Kings Lynn, between 12:00 BST on Saturday and 07:00 on Sunday.
The herd is made up of 127 young white pigs which are each about a foot tall, and detectives said "at least two trailers" would have been needed to transport them from the site.
Norfolk operates a Farmwatch scheme that passes information to farmers and advises on security.
Danny Cracknell, from Farmwatch, said: "The impact of livestock theft on the farming community is significant. There are financial losses to consider, but also implications for the environment and our food chain."
Sgt Rob Curl of Hunstanton Police said: "For the owners of livestock there are a variety of steps that can be taken to protect property, and we would encourage rural landowners and farmers to sign up to Farmwatch."