Ketteringham factory fire: 'Paper still on fire'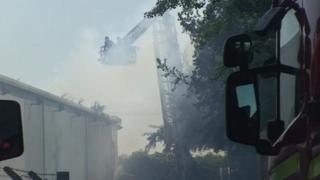 A fire at a recycling plant in Norfolk is still burning, more than 24 hours after it started.
About 120 tonnes of paper caught on fire at the MW White factory at Ketteringham on Tuesday morning.
Norfolk Fire Service watch manager Jim Banks said there were still "plenty of bales of compact paper on fire inside".
"We're going to re-evaulate the situation this morning and hopefully get the company back in operation at some point today," he said.
More than 70 firefighters tackled the blaze at its peak.