Ketteringham factory fire: 'Should be out by Sunday'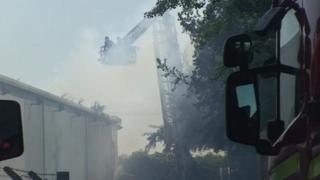 A fire at a recycling plant in Norfolk that has been burning for four days should be out in the next 24 hours, fire chiefs have said.
About 120 tonnes of paper caught fire at the MW White factory at Ketteringham on Tuesday morning.
Deputy chief fire officer Roy Harold said crews would be working around the clock to clear the building of burning paper bales.
More than 70 firefighters tackled the blaze at its peak.
Mr Harold said although the fire produced a lot of smoke, it was not something for people to be worried about.
"It's paper waste, so we're not talking about any toxic chemicals or hazardous fumes, but it is still a nuisance," he said.
"We're trying to minimise the impact of this fire - get it out as fast as we can without doing long-lasting damage."