Norwich Cathedral peregrine falcons' last chicks fledge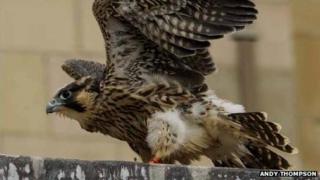 All four peregrine falcon chicks that hatched on Norwich Cathedral have now fledged and are "safe and well", a wildlife trust has said.
The chicks, three female and one male, hatched earlier this Spring.
Two left their nest last week and the final two took flight over the weekend, the Hawk and Owl Trust said.
The quartet are the first to fully fledge from the cathedral after one egg failed to hatch last year and another chick died.
The sole egg produced in 2011, soon after the nesting platform was set up on the cathedral's spire, produced an underdeveloped dead chick.
'Drift away'
The latest falcons are just the third, fourth, fifth and sixth to fledge in Norwich in the last 200 years.
"Some are on the roof, others on various ledges on the outside masonry structure, but all are above ground level, safe and well," a spokesman from the Hawk and Owl Trust said.
"They will stay around the cathedral for the next few months. Firstly they have to strengthen their wing muscles and become much more adept at flying, often through playful mid-air jousting with their siblings.
"The parents also have to teach them to hunt for their own food.
"Eventually, in the autumn, the youngsters will start to drift away but will be seen around the cathedral until then, and occasionally afterwards.
"The parents, particularly the male, will stay around until early winter before they go wandering for a while, returning in the New Year to start all over again."