Melton Constable 'bomb in kitchen sink' woman finds more explosives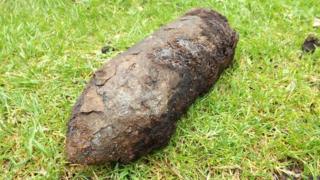 A Norfolk woman who dug up a bomb in her garden and washed it in the sink has found more suspected explosives.
Carole Longhorn found a World War II projectile in Melton Constable in early June and, not knowing what it was, gave it a clean before police were called.
She was tending the borders on Saturday when she found two similar objects - but this time left them in the garden.
A bomb squad later found three other devices, with all five detonated in a controlled explosion.
Mrs Longhorn was gardening in the same section as she had been in June, and again struck metal.
"I brought it up, and woe betide - another bomb," she said.
"Then I put my fingers in the ground and I thought 'yeah, here's another one'."
'Bring it indoors'
Mrs Longhorn, 66, and her husband, Clive, were evacuated while 5131 Squadron from RAF Wittering searched the garden and found three other projectiles.
The five items were all taken to a nearby quarry and detonated, where in June experts had taken the single, 25cm long (10in) explosive object she had found and washed.
"I nearly dropped it on the concrete," she said of her first discovery.
"I took it the window and he [Clive] said 'bring it indoors', because he couldn't see what I was on about.
"I took it in to him and he said 'bleep bleep bleep, get that outside and we'll wash it.
"I didn't hear the 'outside' bit and washed it in the sink.
"He heard me rumbling about and said 'get that bleep bleep bleep outside, I'd better call the police'."
"She took a few precautions," Mr Longhorn said. "She put a plastic seat on the top in case it went off."
A spokesman at RAF Wittering said all five projectiles were similar to those found at the Longhorns' garden in June.
He urged anyone who found a suspected explosive device to not touch it or move it and to call 999.
Mrs Longhorn said it was a mystery why a total of six "bombs" were in her garden but wondered whether members of the Home Guard could have hidden a cache.
As for tending the borders of the garden, she said: "Next time, I'll send my husband out and he can have a go."