Paul Gregory jailed over plot to blow up car in Norfolk village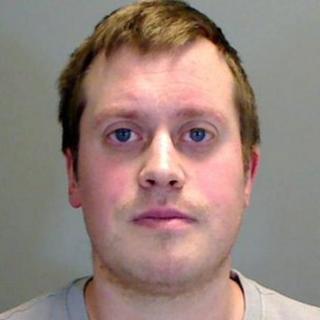 A 30-year-old man who supplied explosives used in a plot to blow up a car in a Norfolk village has been jailed for four years.
Paul Gregory admitted making the explosive material used in a device placed under a car in Coltishall Road, Buxton, on 2 September.
Six properties were evacuated, while Army bomb disposal officers dealt with the device, Norwich Crown Court heard.
Gregory, of Middleton's Lane, Hellesdon, was known as Paul Boom Boom.
He was sentenced to four years for making an explosive device and three years for possession of an explosive substance which will run concurrently.
'Troubled individual'
The man behind the plot, Jonathan Taylor, 50, of Southwell Road in Norwich, was last month jailed for seven-and-a-half years after pleading guilty to performing an act with intent to cause an explosion likely to endanger life or property and possession of a prohibited weapon.
His co-defendant, Milos Gontkovic, 26, of no fixed address, was also jailed last month for two-and-a-half years for his role in the plot and for assisting an offender and giving a false statement to police.
The court heard that the device was found underneath a car belonging to Taylor's ex-girlfriend's new partner.
Taylor was arrested the following morning. When police searched his flat they found a stun gun and a wrist watch that could make audio recordings.
One recording was of Taylor discussing how to make a bomb.
Gontkovic was also arrested on 3 September after inquiries established he had driven Taylor to Buxton.
Det Con Graham Finney said: "The device could have caused serious damage to life and property, and it is fortunate that it was spotted before the vehicle was driven.
"Gregory is a troubled individual who thought nothing of making, storing or using explosives.
"He appears to have been manipulated by Taylor and Gregory not only endangered people in Buxton by providing explosives, but he has also risked the lives of those living near him as more of the explosive compound was found concealed in his house."