Norfolk high-speed broadband switch on at Croxton village hall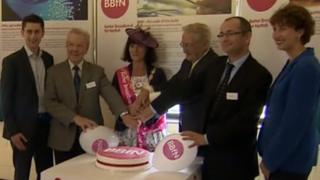 The first fibre broadband service in the UK has been switched on in Norfolk to provide "superfast" connections and data transfer.
The service began on Friday at Croxton near Thetford with a ribbon cutting ceremony in the village hall.
The Better Broadband for Norfolk programme was launched by the county council.
BT will make a £11m contribution to the cost of installing the fibre infrastructure and will maintain it.
The deal between BT and the county council means that by the end of 2015 more than 80% of Norfolk's homes and businesses are expected to be able to access high-speed fibre broadband services.