Royal Sandringham estate lawnmower accident investigated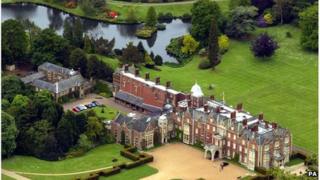 Police and the Health and Safety Executive (HSE) are investigating an accident at the Royal Sandringham estate that left a man badly injured.
The man, an estate worker in his 30s, is still in a critical condition at Addenbrooke's Hospital, Cambridge, following the accident on Monday.
It is understood he was trapped underwater when the lawnmower he was riding fell into a lake.
Norfolk police said they were conducting a joint investigation.
The accident happened at Sandringham's Lower Lake at about 13:30 BST on Monday.
The man was taken to hospital by air ambulance.
An HSE spokeswoman said Norfolk police were leading the investigation.
She said HSE investigators were assisting and making initial inquiries.