Norfolk council chief David White £100k pay-off inquiry launched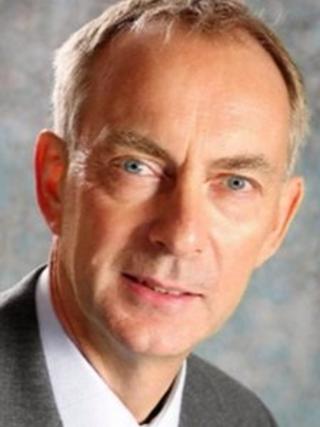 Norfolk County Council has announced an inquiry into how a former chief executive received a pay-off three times larger than previously thought.
David White received a total of £106,100 in redundancy payments, far more than members were initially told.
Another former chief executive, Tim Byles, will be asked to examine whether councillors were misled.
Labour council leader George Nobbs made the announcement following criticism of the settlement to Mr White.
'A cock-up'
Conservative Bill Borrett, who was acting council leader when the pay-out was agreed, said Mr White received only what he was contractually entitled to.
He blamed a "cock-up" for members not being told the true cost of the deal.
Mr Nobbs said he had been "reflecting" on the apparent difference between Mr White's severance pay, as detailed to the council in January, and figures revealed in the council's recently-published draft annual accounts.
"Accordingly, I have asked the acting head of human resources to contact Mr Tim Byles, a much-respected former chief executive of this authority, to ask him if he would conduct a swift review of whether or not the council was misled over the scale of payments made to Mr White," he said.
UKIP group leader Toby Coke had called for an independent investigation "in the interests of transparency".
Retired solicitor John Martin, who first raised the issue, said members had been "kept in the dark" and that the authority would be "blameworthy" if it did not investigate.
It was announced last December that Mr White, who earned £205,322 a year, was to leave in April following his own review of the organisation.
In order to make the council more commercially-focused and better able to deal with anticipated cuts, he recommended the chief executive be replaced by a managing director, earning £40,000 a year less.
But he said it was "crystal-clear" he lacked the skills and experience for the new role and would be standing down.
'No political shenanigans'
In January councillors agreed he would receive £35,439.75 to cover nine weeks' pay and £44,752.79 in pension benefits.
However, draft accounts show he received a total of £106,100 as "compensation for loss of office".
As well as a redundancy payment of £35,400, he received "payment for contractual notice" of £63,600 and £7,100 for untaken annual leave.
Additional costs were put at £48,000 to cover "pension strain" and £9,600 for National Insurance, bringing the total cost to £163,700.
Mr Borrett said: "There are no political shenanigans here.
"As far as I'm concerned, everything was done absolutely straight.
"He was paid a very large sum of money, so all the figures are big."
Mr Borrett admitted the arrangements could have been more transparent, but put this down to a "cock-up".
"You could call it that. These things happen. It's not anything sinister," he said.
Mr White, now a health adviser with a public sector consultancy firm called Impower, was unavailable for comment.