Norfolk village issues 'give back postbox' letter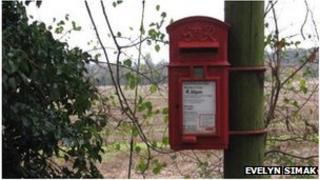 A thief who stole a postbox from a Norfolk village has been urged to return it, by the head of the parish council.
The box, on a pole near the church in Brampton, near Aylsham, went missing a week ago.
Stuart Wilson published a letter on the council's website addressed to "whichever dear soul nicked it".
He said: "Man (or woman) up, return it... and you will feel much better." The police are investigating the theft.
The box, installed in the village some time during the reign of King George VI (1936 to 1952), was "one of the few services our village has", Mr Wilson wrote.
Its theft meant people, some elderly and disabled, would have to make a round-trip of about a mile (1.6km) to post a letter, he said.
"I'm sure they will enjoy the exercise as they struggle to walk and breathe," he added.
Mr Wilson said although he realised the picturesque box might have some value to the thieves, it was there for the "enjoyment and use" of the villagers and passers-by.
He concluded by requesting the thieves post any mail that might have been in the box when it was taken, but said he doubted their "consciences would be troubled" to do so.
The Royal Mail has yet to say whether the box will be replaced.