Norfolk village stolen postbox to be replaced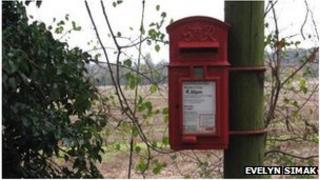 Villagers who wrote an open letter to thieves asking them to return their stolen postbox, will get a replacement within two months, the Royal Mail said.
The box, in Brampton, Norfolk, went missing almost two weeks ago.
Parish council leader Stuart Wilson published a letter on the village website asking the thieves to "man up".
He said: "It was one of the only services this village had. We're glad it'll be back before winter because it's a long walk to the next nearest."
The box, on a pole near the church, was installed in the village some time during the reign of King George VI (1936 to 1952).
"It was extremely picturesque and people used to stop to take photos of it," Mr Wilson said.
"One year a family of great tits made it their home, so they clearly liked it, too."
Its theft meant people, some elderly and disabled, had to make a round-trip of about a mile (1.6km) to post a letter, he said.
The Royal Mail was unable to say whether the new box would be as "picturesque", but confirmed a new one would be installed.
The theft is continuing to be investigated by police.