Dementia care study: Bid to cut hospital mortality rate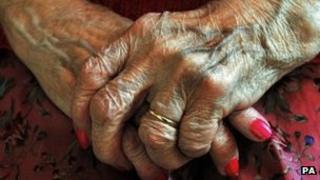 A study by a university and a hospital in Norfolk aims to find techniques to reduce the number of people with dementia dying after serious injury.
The University of East Anglia (UEA) has received a £2m grant for a five-year programme to improve standards of care.
With the Norfolk and Norwich University Hospital UEA researchers will create guidelines for patient care and compile staff training materials.
Dr Chris Fox, from UEA's Norwich Medical School, will lead the project.
He said that people with dementia often suffered fractures and other injuries from falls.
"It is particularly difficult to care for people with dementia because they can't remember what has happened to them," he said.
"They don't know why they're in hospital. And many will end up worse off than before they came in.
"On average, people with a hip fracture in addition to dementia stay in hospital three times longer than those who do not have dementia."
He added: "We will create a set of guidelines for care and rehabilitation of individuals with training materials for staff.
"These may have massive benefits to people with dementia, their families and healthcare professionals."
The study is being funded by the National Institute of Health Research (NIHR) with the aim of improving hospital care for people with dementia.