Alan Partridge: Norwich Go Go Gorilla a 'challenge'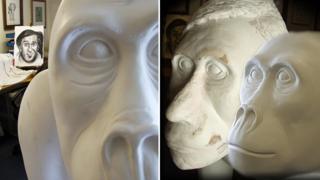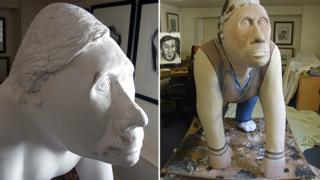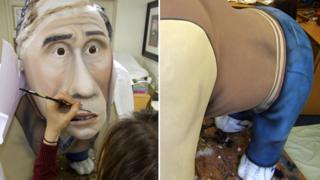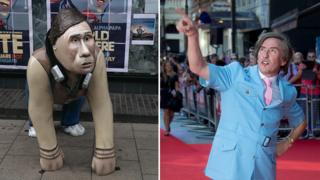 Recreating spoof DJ Alan Partridge in the form of a life-size gorilla sculpture for a Norwich art trail was a "challenge", the artist behind it said.
The sculpture was made following suggestions from the public when it appeared a Freddie Mercury gorilla on the trail would need to be replaced.
The "Alanrilla" was unveiled for the world premiere of Partridge's new film Alpha Papa in Norwich's Anglia Square.
The city got to host the premiere after an online campaign by fans.
Artist Phil Daniels, from Cawston, who has made a number of sculptures for the Go Go Gorilla trail, said: "To make a human face, not just our skull shape, but the tiny features that make us unique is a challenge.
"To then make that on the gorilla structure, that already has a shape and form that is alien to the one you want, was a very hard ask."
It took Mr Daniels and his daughter Sam four days to complete the sculpture, designed to tie in with the film premiere.
"The first task was to remodel the face on the gorilla to look like Alan's profile without resorting to caricature or ridicule of over highlighting elements which would lose the reality effect," said Mr Daniels.
"One thing that stood out was his nose, it's actually quite long. So when a new nose was built on the face it suddenly looked like a human on all fours instead of a gorilla."
The Alanrilla's casual attire was inspired by the two tone beige/brown suede jacket worn by Partridge in the the film, with jeans and white trainers.
"The jeans were, in truth, a nightmare," said Mr Daniels. "The lips also had to be redone at least 10 times until finally they stopped looking like a drag queen's nightmare."
The Alanrilla is the 54th adult gorilla sculpture on the eight-mile long, conservation-themed trail which organisers say has attracted thousands of visitors to Norwich.
Organisers Break, a Norfolk based charity, hope the project will build on the success of Norwich's Go Elephant trail in 2008 which raised more than £200,000 for charities CLIC Sargent and the Born Free Foundation.
The Go Go Gorillas trail runs until 7 September, the pieces will then be auctioned in October.